Opening Remarks at the World Peace Forum
Special Video Conference

Qiu Yong
President of Tsinghua University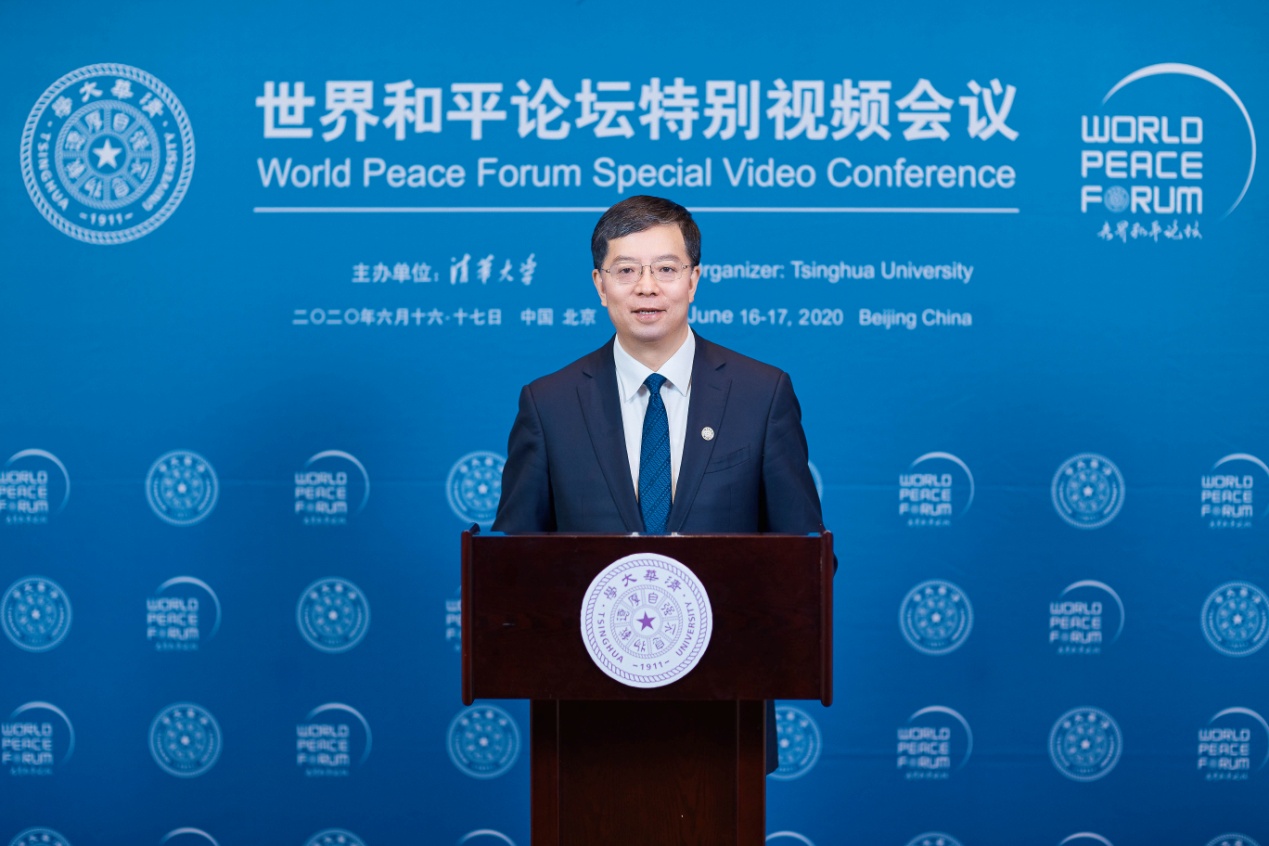 I would like to firstly welcome all of you to the World Peace Forum Special Video Conference. My sincere gratitude specifically goes to all the distinguished speakers, leading academics and seasoned political leaders participating in the conference this time. Many of you are Tsinghua's old friends and have provided generous support to the World Peace Forum over the years.
We are holding this special event because the world is sick. The world is facing an unprecedented public health crisis. In less than half a year, COVID-19 has spread to every corner of the world, infecting millions and claiming hundreds of thousands of lives globally. Since 2012, Tsinghua University has organized the World Peace Forum annually, which usually falls in June or July. Due to the impacts of the pandemic and measures to mitigate its transmission, World Peace Forum, like many other international forums, has to be held online.
The world is sick, indeed. COVID-19 poses challenges on multiple fronts. The International Monetary Fund warned of "the worst economic downturn since the Great Depression". Apart from direct threats to human health, lockdowns caused not only economic disruption, but also societal disruptions. In the face of this major common threat to humanity, unfortunately and unexpectedly, the international community has been extremely slow to form a unified front and make coordinated and effective responses. On the contrary, world politics is witnessing intensified polarization, irrationality, uncertainty, and instability. Former U.S. Secretary of State Henry A. Kissinger predicted that the COVID-19 pandemic will forever alter the world order. He is convinced that "the world will never be the same."
World Peace Forum is China's first non-governmental high-level forum on international security. It provides a platform for strategists across the world to promote international security cooperation and discuss how to deal with major security challenges to the international community. Now that the COVID-19 pandemic seems to be putting the world politics into an undesired trajectory, we think it is our responsibility to convene this special conference, provide a platform for leading international strategists to freely interact, and try to find effective prescriptions to problems threatening world peace.
Tsinghua is convinced that universities should be committed to social responsibility. We also attach great significance to international cooperation. To help tackle environmental issues, in May 2019, Tsinghua University initiated the establishment of The Global Alliance of Universities on Climate which is comprised of 12 prestigious universities from nine countries and six continents. On April 2nd, Tsinghua established the Vanke School of Public Health, which is dedicated to reinforcing the nation's public health emergency management systems and safeguarding global public health security. On April 24th, Tsinghua joined hands with UNESCO and co-organized a special dialogue themed "Online Education in the COVID-19 Response and Beyond".
Excellencies, Ladies and Gentlemen,
We are in a difficult time together. COVID-19 reflects that humankind is a community with a shared future. Coordinated international efforts are the only path to overcome the current crisis. 2020 has become a watershed of the world, which is becoming more complicated and more unpredictable. COVID-19 has taught us profound lessons that stability and peace are the solid foundation of growth and prosperity. It is the time for us to sit down and talk to each other. It is the time for us to do something to prevent disorder. As a platform on security issues, World Peace Forum would like to make its own contribution. We will observe openness and inclusiveness and encourage rational debates and constructive criticism. In the upcoming four panels, We look forward to distinguished speakers' invaluable ideas on how to generate a favourable environment and a common resolve to tackle the challenges. I wish the World Peace Forum full success in achieving its aims and ensuring a more peaceful and prosperous world. Finally, I hope all of you and your families stay safe and healthy.